3rd solo single "Oshiete Blue Sky" hits stores November 11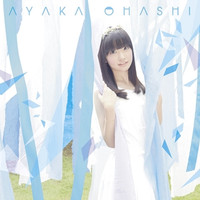 Lantis has posted a short version music video for 21-year-old anime voice actress Ayaka Ohashi's upcoming 3rd solo single "Oshiete Blue Sky" (Teach Me, Blue Sky) on its official YouTube channel. The song is now featured as the ED theme for 8-Bit's original TV anime Comet Lucifer, in which she also voices the main heroine Felia.
She is best known as Ran Shibuki in Aikatsu!, Lance in DokiDoki PreCure!, and Uzuki Shimamura in The Idolmaster Cinderella Girls. She made her solo singer debut with 1st single "YES!!" (Sabagebu! OP) in August 2014, which ranked 35th in the Oricon weekly single chart. Following the 3rd single to be released on November 11, another image song for Comet Lucifer, "Hitotsu ni Natitai" (I Want to be One) by her, will be available as her 4th single on December 9.
Comet Lucifer is now streaming on Crunchyroll every Sunday at 7:00 am Pacific Time, and is available
to Crunchyroll members in the following territories: North America, Latin America, Spain, Portugal, and Andora.
"Oshiete Blue Sky" short MV
"Ayaka" edition CD jacket
"Comet Lucifer" edition CD jacket
Photos from the CD jacket photo session (via: @AyakaOhashi)
【あと10日】11月11日発売の3rdシングル「おしえてブルースカイ」制作中のオフショットを掲載して参ります! まず1枚目はジャケット撮影から。これから撮影始まりますの瞬間です!(スタッフ) pic.twitter.com/cwTKbN2lPo

— 大橋彩香 公式info (@AyakaOhashi) November 1, 2015
【あと10日】11月11日発売の3rdシングル「おしえてブルースカイ」制作中のオフショット2枚目! MVショートバージョンを公開したので早速オフショット! 今夜、放送の「コメット・ルシファー」もよろしくお願いします!(スタッフ) pic.twitter.com/LAp1YhKy3D

— 大橋彩香 公式info (@AyakaOhashi) November 1, 2015
【あと9日】11月11日発売の3rdシングル「おしえてブルースカイ」制作中のオフショット3枚目。 ジャケット写真撮影にて。カメラマンさんに目線外してみて。と言われてるところです。(スタッフ) pic.twitter.com/1bJV2eJ7DR

— 大橋彩香 公式info (@AyakaOhashi) November 2, 2015
---
1st single "Yes!!" short MV (August 25, 2014)
2nd single "ENERGY☆SMILE" (February 6, 2015)