"Aice⁵ ALL SONGS COLLECTION" will be released on November 21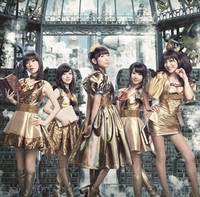 A new artist photo and two CD cover photos for five-member voice actress unit Aice⁵'s upcoming best album "Aice⁵ ALL SONGS COLLECTION" are revealed to Japanese media. The new photos are set in a futuristic library, and the golden costumes the members are wearing are inspired by their earliest ones used when they formed in 2005. The two-disc set containing 27 songs will be released on November 21.
The unit was founded by Yui Horie in October 2005 and released six singles and one album from King Records during its initial two-year active period. All of the original five members: Horie, Chiaki Takahashi, Akemi Kanda, Masumi Asano, and Madoka Kimura return for this 10th anniversary project. Following the release of their long-awaited 7th single "Be with you" on September 30, they will also hold a joint concert with the Sore Ga Seiyu! VA unit Earphones at NHK Hall in Tokyo on the next day of the
album release, November 22.
New artist photo
"Aice⁵ ALL SONGS COLLECTION" first press limited edition CD cover
Regular edition
"Be with you" short MV
CD single jacket
via: BARKS
© Copyright King Record.Co.,Ltd.