Advance tickets will go on sale on December 13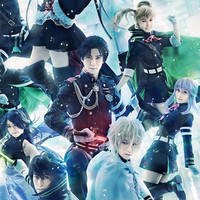 Following the first one introducing Yuichiro Hyakuya and Mikaela Hyakuya, Nelke Planning's official website for the upcoming musical adaptation of the Owari no Seraph/Seraph of the End dark fantasy manga has posted the second main visual also including the members of Vampire Extermination Unit's Moon Demon Company and the Seventh Progenitor vampire Ferid Bathory.
The musical is written/directed by 36-year-old Muck Akazawa, who recently worked on a musical adaptation of Tooru Fujisawa's school action manga series Kamen Teacher, titled "Kamen Teacher Silver Mask" from September to October this year. It is scheduled to be preformed at AiiA 2.5 Theater Tokyo from February 2 to 11, 2016. 7,800-yen advance tickets will go on sale on December 13.
2nd main visual
1st main visual
Main cast:
Yuichiro Hyakuya: Gaku Sano (Kamen Rider Gaim)
Mikaela Hyakuya: Katsuhiro Suzuki (Tokumei Sentai Go-Busters)
Guren Ichinose: Kento Ono (Hyde/Gosei Blue in Tensou Sentai Goseiger)
Mitsuba Sangu: Karen Miyama (Momo Miyaura in A Letter to Momo)
Shihou Kimizuki: Atomu Mizuishi (Renji Yanagi in The Prince of Tennis Musical)
Yoichi Saotome: Shinichi Hashimoto (Marehiko Itsuki in The Prince of Tennis Musical)
Shinoa Hiiragi: Chihiro Kai
Asuramaru: Saya Chinen
Krul Tepes: Mariya Nagao (AKB48 Team K)
Ferid Bathory: Seijiro Nakamura (Mitsunari Ishida in Sengoku Basara 3)
Flyer visual
Source: "Seraph of The End The Musical" official website via: Comic Natalie
© Takaya Kagami, Yamato Yamamoto, Daisuke Furuya/Shueisha
© "Seraph of The End" The Musical Production Committee 2016