A-1 Pictures-produced fantasy series is set for January 2016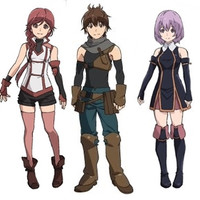 The official website for the upcoming TV anime adaptation of Ao Jumonji's fantasy light novel series Hai to Gensou no Grimgal (Grimgal of Ashes and Illusion/Grimgar le Monde des cendres et de fantaisie) announced its main voice cast with their anime visuals. The novel series has been published from Overlap's light novel imprint Overlap Bunko since June 2013, and the latest 6th volume was released on October 25, 2015.
39-year-old Ryosuke Nakamura, best known for his directorial works for Moryou no Hako (2008), Nerawareta Gakuen (2012) and Aiura (2013), directs the TV anime adaptation for A-1 Pictures. It is set to premiere in Japan in January of 2016.
Haruhiro: Yoshimasa Hosoya (Daryun in The Heroic Legend of Arslan)
【キャラクター紹介】まずは本作の主人公・ハルヒロ。本人はいたって「普通」であることを自覚しているが、聞き上手な一面もあったり。声は、細谷佳正さんがご担当! https://t.co/DCAGYm5Ckf #グリムガル pic.twitter.com/YDvMoHQ7Mw

— TVアニメ『灰と幻想のグリムガル』 (@grimgar_anime) November 4, 2015
Ranta: Hiroyuki Yoshino (Yasutomo Arakita in Yowamushi Pedal)
【キャラクター紹介】お次は、お調子者でおしゃべり。口が悪くて周りをよく怒らせているランタです!声の出演は、吉野裕行さん! https://t.co/DCAGYm5Ckf #グリムガル pic.twitter.com/A1fqrjFMQG

— TVアニメ『灰と幻想のグリムガル』 (@grimgar_anime) November 4, 2015
Manato: Nobunaga Shimazaki (Haruka Nanase in Free!)
【キャラクター紹介】3人目は、好青年感が漂う、マナト。優しく、ハルヒロたち5人をまとめるパーティのリーダー。声の出演は島﨑信長さん! https://t.co/DCAGYm5Ckf #グリムガル pic.twitter.com/vIP7YB2gN2

— TVアニメ『灰と幻想のグリムガル』 (@grimgar_anime) November 4, 2015
Moguzou: Fukushi Ochiai (Kouji Tamaki in Ace of Diamond)
【キャラクター紹介】おおきな体だけど、料理上手なモグゾー。ちょっと変わった叫び方で大剣を振り回す、そんな彼を演じるのは落合福嗣さん! https://t.co/DCAGYm5Ckf #グリムガル pic.twitter.com/w6EfxdhhBk

— TVアニメ『灰と幻想のグリムガル』 (@grimgar_anime) November 4, 2015
Yume: Mikako Komatsu (Sei Iori in Gundam Build Fighters)
【キャラクター紹介】明るく天然で、飾らない性格かつ関西弁のような言葉で話す、ユメ。弓の使い手のようですが…。声の出演は、小松未可子さん! https://t.co/DCAGYm5Ckf #グリムガル pic.twitter.com/fOoiiM85bx

— TVアニメ『灰と幻想のグリムガル』 (@grimgar_anime) November 4, 2015
Shihoru: Haruka Terui (Yuna Yuki in Yuki Yuna is a Hero)
【キャラクター紹介】そして、本日最後のキャラクター・引っ込み思案で臆病だけども頑張り屋さんのシホル。声の出演は照井春佳さん! https://t.co/DCAGYm5Ckf #グリムガル pic.twitter.com/1gmf7j3z0R

— TVアニメ『灰と幻想のグリムガル』 (@grimgar_anime) November 4, 2015
1st PV
Novel volume 1 & 2
Volume 3 & 4
Volume 5 & 6
Source: "Hai to Gensou no Grimgal" TV anime official website, Twitter
©2016 Ao Jumonji, Overlap/Hai to Gensou no Grimgal Production Committee