6,242-yen set will be shipped in February 2016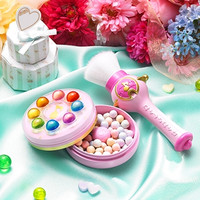 Bandai's cosmetic brand CreerBeaute has listed a cosmetic set based on the three items appeared in the first Ojamajo Doremi TV anime series in 1999-2000, "Magical Ball Face Powder & Stick Make Brush," for a February 2016 release. The set contains a powder case (inspired by Majo Minarai Tap), face powder (Mahou Dama) and a make brush (Peperuto Poron).
The company's official online store Premium Bandai today started accepting pre-orders for the 6,282 yen set. The brand has achieved a huge success with its cosmetic products inspired by Pretty Guardian Sailor Moon and The Rose of Versailles.
Source: press releaase
© Toei Animation