Directed by Tatsuya Yoshihara (Monster Musume)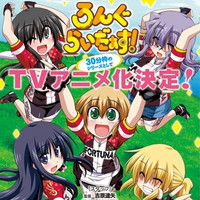 It is officially announced today on November 6 that a TV anime adaptation of Taishi Miyake's road bike-themed manga Long Riders! is set for fall 2016, and it will be produced as a standard 30-minute episode series. All of the voice cast in the drama CD bundled with the limited edition of the 3rd tankobon volume released in July 2014 will reprise their roles in the anime.
26-year-old Tatsuya Yoshihara, well known for his directorial works for Muromi-san, Yoru no Yatterman and Monster Musume, attaches to direct, alongside series composition writer Natsuko Takahashi (Sengoku Basara Judge End, Ore Monogatari!) and character designer Tokiemon Futsuzawa (Wake Up, Girls!, Symphogear GX episode animation director).
Main Voice Cast:
Ami Kurata: Nao Touyama (Karen Kujo in Kin-iro Mosaic)
Aoi Niigaki: Hiromi Igarashi (Anzu Futaba in The [email protected] Cinderella Girls)
Hinako Saijyo: Rumi Okubo (Ako Shirabe/Cure Muse in Suite PreCure♪)
Yayoi Ichinose: Yurika Kurosawa (Arita three sisters in pupa)
Saki Takamiya: Yoko Hikasa (Mio Akiyama in K-ON!)
Paka-san: Sayako Tojo (Takemaru in Kamisama Kiss◎)
Cycle Cafe owner: Kenjiro Tsuda (Seto Kaiba in Yu-Gi-Oh!)
The manga has been serialized in Ichijinsha's Monthly Comic Rex since 2012 and the latest 6th volume
is scheduled to be released on December 26. The story centers on a first year university student girl Ami
Kurata. One day she fells in love with a folding bike she saw in front of the station. Can't resist its cuteness,
she withdraws all of her savings from the bank and buys the same one at a bicycle shop. Then she starts
enjoy weekend cycling with her childhood friend Aoi, senior students at her university, Hinako and Yayoi.
『ろんぐらいだぁす!』のアニメ制作スタッフには実力派が勢揃い! 監督:吉原達也/ キャラクターデザイン:普津澤時ヱ門/高橋ナツコ/ 以上、超豪華メンバーが集結です!! #ろんぐらいだぁす pic.twitter.com/yk1X7Mn2cH

— ろんぐらいだぁす!@アニメ化決定!! (@longriderscomic) November 6, 2015
Ichijinsha's booth at the CYCLE MODE 2015 event today
【一迅社宣伝】#ろんぐらいだぁす CYCLE MODE 2015/2-57『ろんぐらいだぁす!』ブース出展でお邪魔しちゃってます☆ 2016年秋よりTVアニメ化決定の『ろんぐらいだぁす!』をよろしくお願いします‼︎ pic.twitter.com/EOlx78edLB

— 一迅社の宣伝課です。 (@ichijinsha_info) November 6, 2015
Source: "Long Riders!" official Twitter
© Taishi Miyake/Ichijinsha