First press special limited edition contains a 10-song vocal album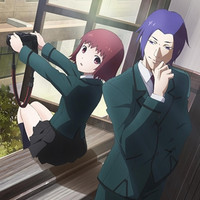 Marvelous has posted a 15-second new CM for Tokyo Ghoul PINTO, the second OVA from the Tokyo Ghoul anime series based on Sui Ishida's dark fantasy manga. It adapts an episode in the spin-off short novel compilation "Hibi" written by Shin Towada, featuring Shu Tsukiyama(CV: Mamoru Miyano)'s high school days and his encounter with Chie Hori (Megumi Han) who appeared in the second part of the manga series, Tokyo Ghoul:re. The fist OVA Tokyo Ghoul Jack was released in Japan on September 30 and also got limited theatrical screenings at seven Japanese theaters from September 5 to 18.
The second OVA is set for a release in Japan on December 25 (no theatrical screenings is planned this time), and comes with an original CD including a special edition of its radio show "GuruRadi" hosted by Natsuki Hanae, Mamoru Miyano and Megumi Han. In addition, the special set of the first press edition also contains a 10-song vocal album CD.
New CM
1st PV
Main Visual
(C) Sui Ishida, Shin Towada/Shueisha, Tokyo Ghoul Production Committee