Lerche-produced TV anime adaptation is slated for January 2016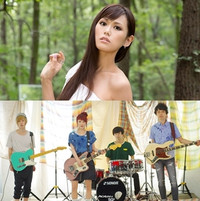 The official website for the upcoming TV anime adaptation of Senri Akatsuki's fantasy light novel series Saijyaku Muhai no Bahamut/Undefeated Bahamut Chronicle today announced that its yet-titled OP theme song is performed by 32-year-old anison singer TRUE, while its ED song is provided by four-member Japanese rock band nano.RIPE. The TV anime is produced by Lerche (Monster Musume, School-Live!) and is set for a premiere in January 2016.
TRUE is an alias of Japanese lyricist Miho Karasawa as an anison singer. She has released "UNISONIA" (1st single/Buddy Complex OP), "Hajimari no Tsubasa/TWIN BIRD" (2nd single/Suisei no Gargantia: Meguru Kouro, Haruka OP, Buddy Complex Final Chapter: In the Future When We Return to Those Skies insert song), "ailes" (3rd/Maria the Virgin Witch ED), and "DREAM SOLISTER" (4th/Sound! Euphonium OP).
TRUE
4th single "DREAM SOLISTER" short MV
nano.RIPE was formed in 2004, and has provided anime theme songs for Hanasaku Iroha, Sankarea, Humanity
Has Declined, Bakuman., The Devil Is a Part-Timer!, Non Non Biyori/Non Non Biyori Repeat, and Glasslip.
nano.RIPE
14th single "Kodama Kotodama" short MV
TV anime 1st PV
Source: "Undefeated Bahamut Chronicle" TV anime official website
© Senri Akatsuki, Sb Creative/Undefeated production Committee
© Lantis