Shuko Murase still serves as the director, but its release plan is unknown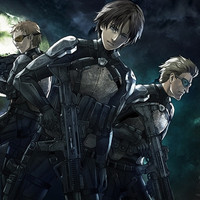 The official website for the Project Itoh today announced that temporally suspended production of Genocidal Organ, one of the three films based on Project Itoh's sci-fi novels, will be continued by Geno Studio, a newly-established studio by producer Kouji Yamamoto. And it is also confirmed that Shuko Murase still serves as the director of the film and the main staff are expected to return.
They are planning to finish the film before the end of this year, but its release schedule is not yet fixed at the moment. Repayment for the film's advance tickets is now accepted till December 31, 2015.
As reported, the original production company of the film, Manglobe received a decision of the commencement of bankruptcy proceedings from Tokyo District Court on November 4. Its total indebtedness is 544.5 million yen to 237 creditors.
Announcement video for the production relaunch
"Genocidal Organ" poster visual for the original release on November 13
Source: Project Itoh official website