Character face pack have sold over 1.3 million sets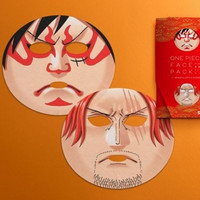 Tokyo-based healthcare product company Isshindo Honpo has released various face packs using traditional kabuki and Chinese opera motif. The brand today announces its latest collaboration items with the most successful Japanese manga franchise, Eiichiro Oda's One Piece. It has collaborated with many internationally famous franchise, such as KISS, Marvel Super Heroes, JoJo's Bizarre Adventure, and Attack on Titan.
Advance sales of the two face packs featuring Monky D. Luffy and Red-Haired Shanks will begin at Shinbashi Enbujo, where the kabuki adaptation starring Ennosuke Ichikawa IV as Luffy, Boa Hancock and Shanks has been performed, on November 21. Then they will be also available at the Isshindo Honpo's official stores, Jump Store, One Piece Mugiwara Store, and Shueisha's official online store Mekke! from November 27. The price for the two-pack set is 1,200 yen (about 9.8 US dollars).
"Super Kabuki II One Piece" poster visual
CM
Costume Photo Session
Source: press release
© Eiichiro Oda/Shueisha
© Eiichiro Oda/Shueisha, Super Kabuki II "one Piece" Partners