The suspects received the latest issue from the same Japanese worker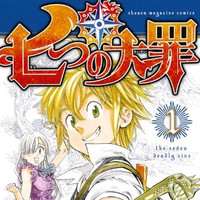 Following the first case reported last Saturday, Kyoto Prefectural Police also arrested another two Chinese exchange students on suspicion of copyright infringement on November 18. The two are accused of posting the latest chapter of Nakaba Suzuki's The Seven Deadly Sins manga onto a different foreign manga pirate site called "RED HAWK" without the copyright holder's permission on October 5, two days before the official release of the issue of Kodansha's Weekly Shonen Magazine in Japan. They have already admitted the charge.
Related: 4 Men Arrested for Posting "One Piece" Latest Chapter Before Release
According to the police, the two received the latest issue of the magazine from the same 69-year-old Japanese delivery company worker who was already arrested on November 13. The Japanese is suspected of stealing the magazine copies during his delivery from a printing factory to bookstores.
"I sold the copies to the Chinese illegally, but didn't know what their purpose was," he said to the police.
In the fastest case, it takes only four to five hours to translate a stolen manga chapter into English and
upload it onto a pirate site. The Kyoto Police think that at least three major manga pirate sites have been
active in the net, and are investigating the possibility that more than one group in Japan are supporting
their illegal activities.
Kodansha says, "We think this exposure is epoch-making, because this is the first arrest for infringement
of digital copyright for our publications and also for the organized manga pirate sites at the same time.
We hope this case will lead to more exposure of pirate sites, especially in North America, where massive
copyright infringement has been widespread."
As we reported several times, posting magazine pages and articles onto the net without the publisher's
permission before and after its official release day is illegal and crime.
Source: The Association of Copyright for Computer Software, Wall Streer Journal, Yomiuri