Including a newly-recorded interview with Toshiyuki Morikawa (D-Boy)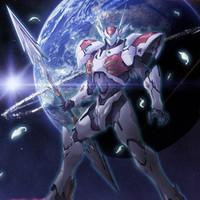 It is confirmed that a 9-disc Blu-ray box of Tatsunoko Production's 1992-1993 TV anime series Tekkaman Blade will be released in Japan at the price of 41,040 yen (about 333 US dollars) on January 27, 2016.
The TV anime was aired for 49 episodes in Japan from February 1992 to February 1993, as a loose reboot of Tatsunoko's 26-episode TV series in 1975, Tekkaman, The Space Knight. Blade was followed by the 6-episode sequel OVA Tekkaman Blade II released in 1994-1995, and the box set includes the sequel as well.
In addition to all of the bonus materials originally made for the laser discs and a "Single Collection" CD, a newly-recorded interview footage with Toshiyuki Morikawa (D-Boy/Takaya Aiba/Tekkaman Blade) is also included in the Disc 8.
Main Visual for the Blu-ray box
Source: HMV Online