Polygon Pictures (Knights of Sidonia) works on anime production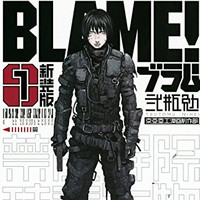 44-year-old Japanese manga artist Tsutomu Nihei officially announced today on his Twitter that an anime film adaptation of his first serialized manga work BLAME! is in the works. Polygon Pictures, previously worked on anime adaptations of his Knights of Sidonia series, again works on anime production.
Nihei tweeted: "Hers's an announcement from TOA Heavy Industries Video Production Department. A film adaptation of BLAME! gets a greenlight. Polygon Pictures works on production."
東亜重工動画制作局より告知です。BLAME!の劇場アニメ化が決まりました。制作はポリゴンピクチュアズです。

— 東亜重工 nivin (@tsutomu_nihei) November 19, 2015
BLAME! is based on Nihei' short story BLAME (without the exclamation mark), which won the Special
Jury Award in the Four Seasons Award manga contest held by Kodansha's Monthly Evening in summer
of 1995. The long story version was serialized in the magazine from 1997 to 2003, then compiled in
10 tankobon volumes.
In the 8th episode of the Knights of Sidonia TV anime 2nd season aired this year, a 40-second footage
of its 3DCG animation was shown as a film in the show. Takahiro Sakurai, who was cast as Norio Kunato
in Sidonia, voiced the protagonist Killy in the footage.
Tankobon 1st volume: Original (1998) and New Edition (2015)
Source: Tsutomu Nihei's Twitter