10,000 fans pick the cutest mascot from a list of 73 candidates in recent online poll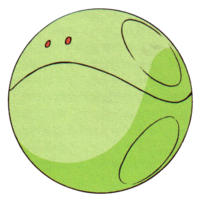 A recent online poll on Charapedia asked Japanese anime fans to pick their favorite cute anime mascot characters, and some 10,000 people weighed in. The poll results were more evenly split by gender (57.7% male, 42.3% female) this time around, although the polling demographics still skew young (70.8% were in their Teens and Twenties, while 29.2% were in their Thirties or older).
Respondents were asked to vote for their favorite character from a list of 73 nominees. The "Top 20 Cutest Anime Mascot Character" results were as follows:
20.) Sonic from Blood Blockade Battlefront. (102 votes)
19.) Tanuki from Monthly Girls' Nozaki-kun. (105 votes)
18.) Kon from Bleach. (110 votes)
17.) Piyo-can from Uta no Prince Sama. (115 votes)
16.) Hawk from The Seven Deadly Sins. (116 votes)
15.) Shiro from Crayon Shin-chan. (126 votes)
14.) Mokona from Magic Knight Rayearth. (134 votes)
13.) Tarōmaru from SCHOOL-LIVE!. (145 votes)
12.) Haro from Mobile Suit Gundam. (160 votes)
11.) Happy from Fairy Tail. (168 votes)
10.) Gekota from the A Certain Magical Index series. (198 votes)
09.) Tetsuya #2 from Kuroko's Basketball. (240 votes)
08.) Elizabeth from Gintama. (251 votes)
07.) Cerberus from Cardcaptor Sakura. (255 votes)
06.) Tippy from Is the Order a Rabbit? (274 votes)
05.) Pikachu from Pokémon. (302 votes)
04.) Nyanko-sensei from Natsume Yujin-cho. (319 votes)
03.) Kyubey from Puella Magi Madoka Magica. (330 votes) ... /人◕ ‿‿ ◕人\ "Contract?"
02.) Sadaharu from Gintama. (343 votes)
01.) Tony Tony Chopper from One Piece. (444 votes)
Personally, I'm not sure I'd categorize Chopper as a mascot, since he's the ship's doctor and not even the weakest of the Straw Hat Pirates in a fight. (He does have the lowest bounty, though.) And who in their right mind voted for Kyubey?
Source: Charapedia via My Game News Flash
Paul Chapman is the host of The Greatest Movie EVER! Podcast and GME! Anime Fun Time.