Nab a brand new Digimon while enjoying a new game!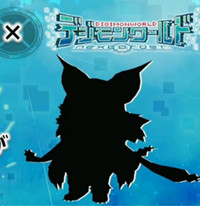 Digimon World: Next Order is a brand-new Digimon title for PS Vita that's coming out in Japan in 2016. It's looking pretty sweet, with a lot of surprises for Digimon fans that we've reported on. But the latest announcement is pretty special: Fans will be receiving a brand new Digimon straight out of Digimon Adventure tri.!
Meikuumon is the Digimon in question, and anyone who has a copy of Digimon World: Next Order will be able to use Meikuumon in game. It's pretty exciting, especially since this is a brand new game and a new monster as well. No word yet on whether or not this would carry to a localized release, but if you're snapping up the Japanese version, you've got a lot to look forward to!
[via Gematsu]
-------
Fueled by horror, rainbow-sugar-pixel-rushes, and video games, Brittany is a freelancer who thrives on surrealism and ultraviolence. Follow her on Twitter @MolotovCupcake and check out her portfolio for more.