Theme song will be performed by voice actress unit everying!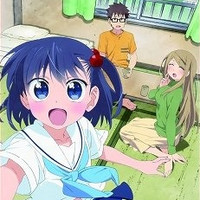 The official website for the upcoming TV anime adaptation of Ruruu Minase's four-panel comedy manga Ooya-san wa Shishunki! (The Landlady is in Puberty!) has announced its main staff, in addition to the previously announced Yurika Kubo as the voice for the protagonist Chie Satonaka. The 26-year-old voice actress is best known as Hanayo Koizumi in the Love Live! School Idol Project franchise. The TV anime is set for a premiere in January of 2016.
Yuuki Ogawa, who recently worked on the TV anime adaptations of Saekano: How to Raise a Boring Girlfriend and My Wife is the Student Council President as an episode director, makes his TV anime series directorial debut for Seven Arcs Pictures (Trinity Seven, DOG DAYS''), alongside character designer/chief animation director Atsuki Shimizu (Tokyo Ghoul episode animation director).
Music will be produced by Arte Refact, which started as a doujin circle for the Touhou Project music in
2011, and has recently worked for many commercial anime/game series including PriPara, Fairy Tail,
Beautiful Bones: Sakurako's Investigation, Comet Lucifer, and The [email protected] Million Live!. Two-
member voice actress unit everying!, consisting of Ibuki Kido (Hibiki Amami in Re-Kan!) and Erii Yamazaki
(Makoto Ogawa in Re-Kan!), will perform the yet-titled theme song as their 2nd major single to be released
on February 10, 2016.
The manga has been serialized in Houbunsha's Manga Time (since the June 2012 issue) and Manga
Time Family (since the February 2014 issue), and currently four tankobon volumes are available.
The story centers on Chie Satonaka, a junior high school girl who is also working as the landlady of
an old apartment.
Main Visual
Manga tankobon 1st and 2nd volume
3rd and 4th
Source: "Ooya-san wa Shishunki!" TV anime official website
© 2016 Ruruu Minase, Houbunsha/Production Committee is in in Puberty