Directed by Koutaro Yoshitani (Hetalia -Singin' in the World-)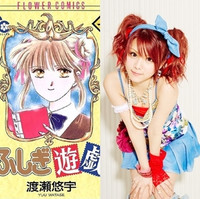 Japanese talent agency amipro today launched the official website for the upcoming two-part musical adaptation of Yuu Watase's popular manga series in the 1990s, Fushigi Yuugi, announcing its main cast. 26-year-old Reina Tanaka, an ex-member of idol group Morning Musume. and the current leader of four-member girls band LoVendoЯ, is cast as the 15-year-old protagonist Miaka Yuuki. It will be her stage play debut.
The manga has been adapted into stage plays by two companies in the past. The first one was also produced by amipro in 2010 (two sequels followed in 2011 and 2012), then the second one starring Yutaka Kyan, a member of visual kei "air" rock band Golden Bomber as Tamahome, was co-produced by Nelke Planning and Apple in March 2015.
39-year-old Koutaro Yoshitani, known for his stage play adaptation works based on famous anime/manga/
game franchise, such as Saiyuki (2005), Banana Fish (2005), Peacemaker Kurogane (2007), They Were
Eleven (2008), BASARA (2012), ROBOTICS;NOTES (2013), and the upcoming Hetalia -Singin' in the World-
in December, attaches to write and direct.
The first part of the Fushigi Yuugi musical, titled "Shu no Shou," will be performed 15 times at Owlspot
in Tokyo from April 8 to 17, 2016. The first entries for the 8,000 yen tickets will be accepted from
December 19 to 24.
Reina Tanaka
Main Cast:
Miaka Yuuki: Reina Tanaka (ex-Morning Musume.)
Tamahome: Ryo Hirano (Yuji Hitouji in The Prince of Tennis Musical)
Nakago: JURI (Hikaru Amame in The Prince of Tennis live-action film)
Hotohori: Takahisa Maeyama (Yosuke Hanamura in Persona 4 stage play)
Nuriko: Mao Miyagi (previously played the character in the three amipro-produced plays)
Tasuki: Yoshikazu Kotani (Kouji Majima in Kamen Rider Agito)
Mitsukake: Eiji Takikawa (Kunimitsu Tezuka in The Prince of Tennis Musical)
Chichiri: Tatsumaru Tachibana
Amiboshi: Tsubasa Hattori (Shikamaru Nara in Live Spectacle Naruto)
Chiriko: Daiki Tomita (previously played the character in the three amipro-produced plays)
Shouka: Mina Kuryu
Amiboshi: Zendou Ware
Source: "Fushigi Yuugi" musical official website via Comic Natalie
© Yuu Watase/Shogakukan ©amipro