27,000-yen porcelain platter will be shipped in March 2016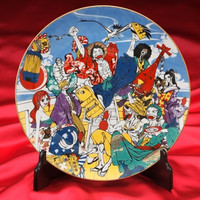 Bandai's official online store Premium Bandai today started accepting pre-orders for 280mm-size Aritayaki porcelain platters featuring an Ukiyo-e style illustration of Eiichiro Oda's One Piece manga series. The original art was used as the cover of the 61st volume, the beginning of The Final Sea: The New World saga.
The platter is produced by Koransha in Saga Prefecture, which was founded in 1689 and has preserved the traditional technique of making Arita-yaki porcelain for over 300 years. The first Arita-yaki porcelain was believed to be made in 1616, so the One Piece platter will be released as one of its 400th anniversary products at the price of 27,000 yen (about 220 US dollars) in March of 2016.
Tankobon 61st volume cover
Source: press release
(C) Eiichiro Oda/Shueisha, Fuji TV, Toei Animation