"The Best Present" hits Japanese bookstores today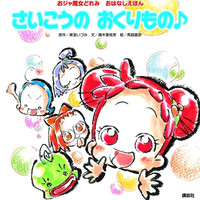 Kodansha today releases a new picture book "Ojamajo Doremi Ohanashi Ehon: Saikou no Okurimono (The Best Present), inspired by Toei Animation's Ojamajo Doremi anime franchise. The anime's original character designer Yoshihiko Umakoshi provides newly-drawn illustrations. The story is written by Hajime Tsumugi, who has worked on the picture book adaptations of Toei Animation's PreCure series as well.
The first four Ojamajo Doremi TV anime series, Ojamajo Doremi, Ojamajo Doremi #, Mo~tto! Ojamajo Doremi, and Ojamajo Doremi Dokka~n!, was aired in Japan from 1999 to 2002, then the 13-episode OVA Ojamajo Doremi Na-i-sho was released from 2004 to 2005. Kodansha has also published the sequel light novel series Ojamajo Doremi 16, which is set three years after the 4th TV anime, focusing on the protagonist characters who become high school students.
The covers of "Ojamajo Doremi 16" 1st volume, and "Ojamajo Doremi 19" to be published on December 2
(both are illustrated by Yoshihiko Umakoshi)
Source: press release