"The Seven Deadly Sins" takes 2nd place from "Attack on Titan"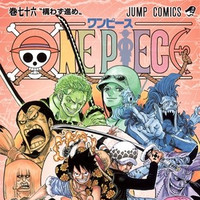 Oricon, a data compiling company specializing in providing data for the Japanese music/book industry, today announced the 2015 best-selling book annual rankings, which was compiled between December 1, 2014 and November 30, 2015. In the manga sales ranking, Eiichiro Oda's One Piece sill keeps its crown for seven years in a row since 2009. The series sold an impressive 14,102,521 copies during the period, which was 18 percent up from 2014 (11,885,957), since it released four volumes in the 2015 count (76th to 79th), while three in the 2014 (73rd to 75th).
Nakaba Suzuki's The Seven Deadly Sins jumped up from last year's 9th, taking 2nd place of this year from Hajime Isayama's Attack on Titan. This year's estimated sales of the former was 10,304,112, 2.2 times more than last year's 4,633,246. The success was mainly supported by the well-received 24-episode TV anime adaptation aired in Japan from October 2014 to March 2015. Yusei Matsui's Assassination Classroom and Yuuto Tsukuda & Shun Saeki's Shokugeki no Soma, both had a TV anime
adaptation this year, doubled their sales as well.
On the other hand, the sales of Attack on Titan in 2015, 8,778,048 copies, was 26 percent down from
2014's 11,728,368, which was almost half of the sales in 2013 (15,933,801). It is obvious that the series
has lost its popularity very rapidly in Japan. The two critically butchered live-action films released this
year also added an additional blow to the downfall. Will the upcoming TV anime 2nd season save the series?
2015 Manga Sales Ranking Top 10 (series)
1 (1). One Piece - 14,102,521 (11,885,957 in 2014)
2 (9). The Seven Deadly Sins - 10,304,112 (4,633,246)
3 (2). Attack on Titan - 8,778,048 (11,728,368)
4 (10). Assassination Classroom - 8,605,861 (4,622,108)
5 (21). Kingdom - 8,569,215 (2,516,278)
6 (3). Haikyu!! - 6,531,508 (8,283,709)
7 (19). Shokugeki no Soma - 4,321,830 (2,644,122)
8 (12). Terraformars - 4,188,158 (4,295,257)
9 (-). Prison School - 4,058,119
10 (-). Tokyo Ghoul:re - 3,758,541
---
2015 Manga Sales Ranking Top 25 (volume)
1. One Piece 76 (3,185,018)
2. One Piece 77 (3,020,137)
3. One Piece 78 (2,977,466)
4. One Piece 79 (2,810,583)
5. Attack on Titan 15 (2,000,147)
6. Attack on Titan 16 (1,920,780)
7. Attack on Titan 17 (1,807,155)
8. Naruto 72 (1,324,693)
9. Tokyo Goul:re 1 (1,017,871)
10. Assassination Classroom 12 (1,012,500)
11. Naruto Gaiden (1,009,500)
12. Assassination Classroom 13 (997,782)
13. Hailyu!! 14 (991,094)
14. Tokyo Ghoul:re 2 (988,183)
15. Assassination Classroom 14 (987,660)
16. Ao Haru Ride 13 (974,284)
17. Ao Haru Ride 12 (957,215)
18. Silver Spoon 13 (952,338)
19. Assassination Classroom 15 (947,140)
20. Tokyo Ghoul:re 3 (935,354)
21. Haikyu!! 16 (926,853)
22. The Seven Deadly Sins 12 (902,162)
23. The Seven Deadly Sins 13 (884,689)
24. The Seven Deadly Sins 14 (883,796)
25. Haikyu!! 17 (881,654)
---
Source: Oricon
One Piece image © Eiichro Oda/Shueisha