The film already won two prizes in the Sitges International Fantastic Film Festival of Catalonia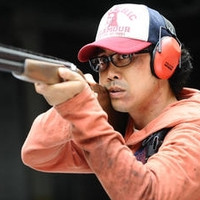 The official website for the upcoming live-action film adaptation of Kengo Hanazawa's survival zombie manga I am a Hero today announced that its release day in Japan is set for April 23, 2016. The latest issue of Shogakukan's Big Comic Spirits also reported the news with a visual of You Oizumi as the protagonist Hideo Suzuki. Shinsuke Sato (GANTZ, Library Wars) attaches to direct on a script by Akiko Nogi (Library Wars). Makoto Kamiya (Godzilla, Mothra and King Ghidorah: Giant Monsters All-out Attack, Japan Sinks) works on special effects.
The manga has been serialized in Big Comic Spirits since 2009. Its total print run has reached 4 million copies, and the latest 18th tankobon volume is just release today in Japan. The story is set in a modern-day Japan attacked by an infectious disease which turns people into carnivorous ghouls called "ZQN." The protagonist Hideo Suzuki, who works as a manga assistant and has a shotgun for clay target shooting, tries to survive the apocalyptic situation.
The film is already completed, and received the Best Special Effects Award (for Makoto Kamiya) and
the Grand Audience Award in the 48th Sitges International Fantastic Film Festival of Catalonia last month.
You Oizumi as the protagonist Hideo Suzuki via: the film festival's official website
Manga tankobon 1st and 18th volume
Source: "I am a Hero" live-action film official website
© Movie "I am a Hero" Production Committee © Kengo Hanazawa/Shogakukan