The artist created most of the modern images of yokai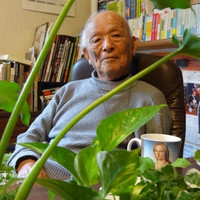 Acclaimed manga artist Shigeru Mizuki, best known for his nationally beloved Gegege no Kitaro series, passed away due to multiple organ failure in a hospital in Tokyo around at 7:00 am today, November 30. He was 93.
Mizuki was born in Sakai Minato-city, Tottori Prefecture, on March 8, 1922. He was drafted into the Imperial Japanese Army in 1942 and lost his left arm in the U.S. air raid. After the war, he made his professional manga artist debut in 1958 with Rocketman. He was interested in yokai (supernatural monsters and spirits in Japanese folklore) since his childhood, and they have been the main motif in many of his works, such as Hakaba Kitaro and Kappa no Sanpei. It is often said that he created, or arranged, most of the modern visual images of yokai.
Meanwhile, he has been also known for his autobiographical works based on his military service experience,
including the award-winning Souin Gyokusaiseyo! (Onward Towards Our Noble Deaths) in 1973. The
manga won the Eisner Award in the Best U.S. Edition of International Material - Asia category in 2012.
His most recent photo posted on Mizuki Production's official twitter on September 30, 2015
ホームセンターで買ってきた寄せ植え用ミニ観葉植物を「美しいね・・・」と愛でる水木しげる。森の精のような1枚になりました! pic.twitter.com/sOeuVzIJ6f

— 水木プロダクション (@mizukipro) September 30, 2015
"Kitaro Encyclopedia" (2004) and "Yokai Encyclopedia" (2004), both published by Shogakukan
Covers of "Onward Towards Our Noble Deaths" US edition published by Drawn and Quarterly (2011)
Source: Mizuki Production, Asahi Shimbun