Tomokazu Seki (Shinya Kogami) provides guidance voices for the visitors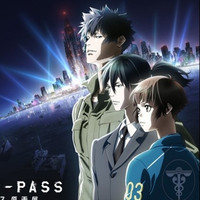 The official website foe the upcoming original art exhibition dedicated to the Psycho-Pass anime franchise has updated with its main visual featuring the three characters: Shinya Kogami, Akane Tsunemori and Nobuchika Ginoza. The event will display the original key arts from the anime, mainly from the feature film released in January of this year.
Voice Actor Tomokazu Seki (Shinya Kogami) provides guidance voices to explain the story related each arts for the visitors. He also newly recorded a radio talk with Kenji Nojima (Nobuchika Ginoza), and a CD including the talk and his guidance voices will be offered at the event.
The exhibition will be held at Seibu Gallery in the Seibu Ikebukuro main store in Tokyo from January 15 to 25, 2016. 1,000-yen advance tickets with two Chimi-chara tin badges will be available at major ticket agencies from December 5.
Main visual
【原画展準備レポ】本日原画展のメインビジュアルを公開&券売情報をアップしました! 劇場版本編では3人一緒のシーンがなかったので、今回3人のビジュアルを作れたらいいなと思っていた事が叶いました。(IGもりひろ) #pp_anime pic.twitter.com/0ffK26Gscg

— サイコパス原画展 (@psychopassgenga) November 30, 2015
The exhibition's official Twitter has posted photos of the materials to be featured in the event below.
Selecting the key arts from the boxes
【サイコパス原画展準備レポ】先月都内某所IG倉庫にて。監督が1400カットくらいあるカット袋をまず仕分け→原画を順次選んでいきます。私は長時間同じ態勢でいたせいか膝が平らに汗 3か月ずれてたら極寒。#pp_anime(IGもりひろ) pic.twitter.com/ksUBYHCbVa

— サイコパス原画展 (@psychopassgenga) November 7, 2015
【サイコパス原画展準備レポ】今たまたま手元にある準備中の原画を1カット…ここはどのシーンか、みなさん覚えてますかね…!? #pp_anime(IGもりひろ) pic.twitter.com/HF6jaN0xjd

— サイコパス原画展 (@psychopassgenga) November 12, 2015
【サイコパス原画展準備レポ】去年の秋は予告編制作が終わったくらいかな?という感じなのですが予告編のカットが思うように揃わず、あの頃はとにかく宮崎とサムリンだらけだったような記憶がありますね~ #pp_anime(IGもりひろ) pic.twitter.com/hV3vZNCQrA

— サイコパス原画展 (@psychopassgenga) November 13, 2015
【サイコパス原画展準備レポ】先ほどアップした写真、向きが…すみませんでした! #pp_anime(IGもりひろ) pic.twitter.com/xomLV0dwx6

— サイコパス原画展 (@psychopassgenga) November 20, 2015
【サイコパス原画展準備レポ】TVの時には出てこなかった銃も劇場版では色々と出ております。細かくリアリティのある動作を追求しています。原画で見ても、このあたりもすごく面白いです! #pp_anime(IGもりひろ) pic.twitter.com/REUwHpdNAY

— サイコパス原画展 (@psychopassgenga) November 20, 2015
【サイコパス原画展準備レポ】TVでは尺の都合ではしょりがちなブリーフィングのシーンも、劇場版では描けました。仕事をしているプロの雰囲気を感じてもらえるといいな~と思うシーンです。 #pp_anime(IGもりひろ) pic.twitter.com/eURMnoteyp

— サイコパス原画展 (@psychopassgenga) November 20, 2015
Source: "Psycho-Pass" Arts Exhibition official website, Twitter
© Psycho-Pass Production Committee