Both titles available starting today, dubbed and subbed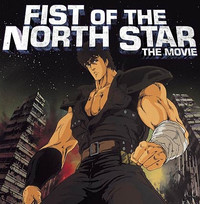 Break out the gourmet microwave popcorn! Crunchyroll has just delivered one heck of a classic anime double feature with the addition of Fist of the North Star: The Movie and Jin Roh available today at 6pm and 4pm Pacific Time, respectively. Both titles are available for members in the US and Canada.
About Fist of the North Star: The Movie
In the near future, Earth has been devastated by a nuclear hell. In these troubled times, kinetic martial arts have replaced weapons of mass destruction, and the legendary Fist of the North Star style may then be the only hope for humanity's survival. Ken, the rightful master of Fist of the North Star, is forced to fight old friends gone mad, wicked new enemies, and even comes face to face with his power hungry elder brothers. All this in the hope that he will someday be reunited with his beloved Julia.
Notes: Originally released in 1986, this is a (very) condensed version of the story made popular to millions via the original Fist manga and TV series, albeit with all-new theatrical grade animation. It's also one of the downright funniest anime ever made just for pure jaw-dropping, over-the-top moments that hit like a hail of blows. The dubbed version is particularly recommended and extremely quoteable.
About Jin Roh
In a very different Tokyo from the one we know today, the totalitarian government rules with an iron fist. But a group called "the Sect" is staging demonstrations and challenging the government's martial law. Constable Fuse of the Capital Police's Special Unit is on a mission to stop a Sect demonstration when he encounters a girl in the sewers under Tokyo. When he fails to shoot as ordered, he is put on trial, questioned, and "re-conditioned" as a soldier. The dead girl haunts him, both in his dreams and in the face of her sister, whom Fuse has befriended. But Fuse has made himself a target for some very powerful men. And as the world comes crashing down around him, Fuse is continually challenged to decide what is real and what is right.
Notes: Jin Roh (AKA Jin Roh: The Wolf Brigade) is a prestige anime film from 1999 and is one of the jewels in the crown for Production I.G, featuring, as it does, amazing hand-drawn animation (before everything went digital) and a script by Mamoru Oshii of Ghost in the Shell fame. It's very much a thinking person's anime film, dark and difficult, but worth your time if you'd like some brain cells back after Fist of the North Star.
-------
Patrick Macias is editor in chief of Crunchyroll News & Otaku USA magazine.
He is also the writer of HYPERSONIC music club, Paranoia Girls, & PARK Harajuku: Crisis Team