"Love Live!" VA unit will perform in NHK's Kohaku Uta Gassen on the same day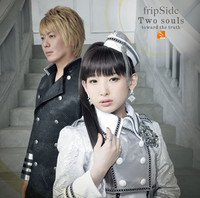 It is officially confirmed that two-member musical unit fripSide, consisting of voice actress Yoshino Nanjo and producer Satoshi Yaginuma, will hold its annual countdown event titled "fripSide COUNT DOWN LIVE 2015→2016" at Kanagawa Prefectural Civic Hall on December 31, 2015. They have held the countdown event since 2013.
As reported, μ's, the nine-member voice actress unit from the Love Live! School Idol Project franchise, will also perform in this year's Kohaku Uta Gassen, the New Year's Eve singing program of NHK (Japanese Broadcasting Corporation/Nippon Housou Kyoukai) on the same night. Nanjo is one of the founding nine members, voicing Eli Ayase in the show, but she has been absent from the unit's live performances for months due to a subluxation of her kneecap and meniscus injury. Meanwhile, she has joined the ongoing tour of flipSide, running through eight cities from September to December,
because it doesn't require intense dance performances like μ's.
flipSide's countdown event will be held from 22:30 to 25:30, and Kohaku Uta Gassen at NHK Hall in
Tokyo will be aired 19:15 to 23:45. Though Nanjo has not yet clearly said that she won't, the possibility
to see the full lineup performance of μ's is currently very low.
flipSide's latest 10th single "Two souls -toward the truth-" released just today
μ's
Source: flipSide official website
© 2009 Universal Studios
© 2013 Project Love Live!