The founder of the site has been placed on a nation-wanted list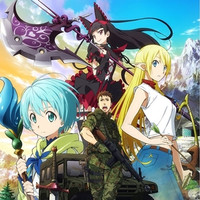 On December 2, the joint investigation headquarters consisting of police headquarters in Kyoto, Shimane, Yamaguchi and Kochi arrested a 38-year-old male office worker from Osaka-city on suspicion of copyright infringement (infringement of public transmission rights).
According to the police, the suspect posted the first and another one episode of GATE: Jieitai Kano Chi nite, Kaku Tatakaeri TV anime onto video-sharing website FC2 via its "FC2 Live" service without the copyright holder Warner Entertainment Japan's' permission on September 4, 2015. The police already searched his house and seized his PCs. The suspect has admitted his charge and said that he wanted to share values with others by streaming the anime on the internet.
FC2 has been infamous for being a place to share illegally uploaded videos. The founder of the site in his 40s has been placed on a nation-wanted list by Japanese police. He is believed to be staying in the
U.S. to acquire the U.S. Citizenship.
Source: The Association of Copyright for Computer Software
"GATE" image © Takumi Yanai, Alpha Police/GATE Production Committee
---
Related:
Another 2 Chinese Arrested for Uploading "The Seven Deadly Sins" Manga
4 Men Arrested for Posting "One Piece" Latest Chapter Before Release
Man Arrested for Selling Pirated "Love Live!" Badges
Police Arrested Man Who Posted Robot Anime Videos, Theme Songs
50-Year-Old Unemployed Man Arrested for Uploading Manga via PerfectDark
High School Teacher Arrested for Uploading "Kuroko's Basketball" Manga
Unemployed Man Arrested for Uploading "Liar Game" Manga
40 People Arrested for Illegal Uploading of Anime, TV Drama in 3 Days
45-Year-Old Man Arrested for Selling Pirated Anime Stickers in Akihabara
Government Official Arrested for Posting "Gundam Unicorn" Episodes onto Video Sharing Site FC2
48-year-old Man Arrested for Uploading "Yo-Kai Watch" Anime Episode
Man Arrested for Selling One Dollar Bills with "One Piece" Images
46-year-old Unemployed Man Arrested for Posting "Maken-Ki! Two" on Video Sharing Site FC2
Two Japanese Men Arrested for Uploading "Berserk," "K-ON!" Manga
Man Arrested for Uploading "Attack on Titan" Manga 10th Volume
Man Arrested for Posting "Crayon Shin-chan" and "Black Jack" Anime on Video Sharing Site FC2
39-year-old Man Arrested for Uploading "Attack on Titan," "One Piece" TV Anime Episodes
Chinese Man Arrested for Selling Pirated Boa Hancock Figures