"Final Single" will be released on March 2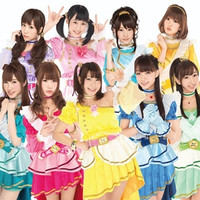 In the special 30-minute program aired/streamed tonight in Japan, μ's, the nine-member voice actress unit from the Love Live! School Idol Project franchise, announced that they will hold the "μ's Final LoveLive!" concert at Tokyo Dome on March 31 and April 1, 2016, and will release their "final single" on March 2, as the "Love Live! μ's Arigatou Project ~Road to μ'sic Forever~" project. The project also includes theatrical screenings of the anime MVs and their previous concerts, streaming of their concert footage, and publishing of three related books.
But during the broadcast, there was no announcement or even a mention of the rumored breakup of the unit (all members seemed to try to avoid the subject as much as possible). So some fans try to think that this may be the end of their musical activity on their own, but the unit itself will continue in some form, like a guest appearance in a highly possible new anime series featuring the Love Live! Sunshine school idols.
CM spots
60-second
30-second
15-second
μ's
Source: "Love Live! μ's Arigatou Project ~Road to μ'sic Forever~" official page
© 2013 Project Love Live!