Filmed at Pacifico Yokohama on July 5, 2015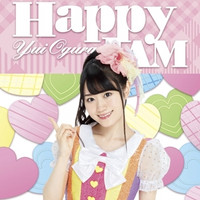 King Records has posted a 90-second preview for 20-year-old anime voice actress Yui Ogura's 1st live DVD/Blu-ray "HAPPY JAM" on its official YouTube channel. She is best known as the voice of Hinata Hakamada in Ro-Kyu-Bu! and Kokona Aoba in Encouragement of Climb, and also as a member of two-member VA idol unit YuiKaori.
Her 1st solo concert "HAPPY JAM" was held at Pacifico Yokohama's National Convention Hall (capacity: 5,002) twice (14:00, 18:00) on July 5, 2015. All of the 6,900-yen tickets were sold out beforehand. The disc contains the 18 songs performed in its second part and will be released in Japan on December 23, 2015.
"HAPPY JAM" DVD/Blu-ray preview
Blu-ray jacket
DVD jacket
Source: Yui Ogura official website
© Copyright King Record.Co.,Ltd.