Film to begin streaming on Crunchyroll starting in January.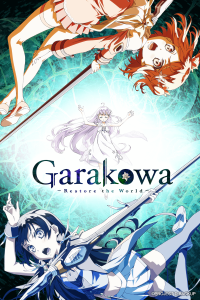 Crunchyroll is excited to announce that it has acquired the worldwide exclusive streaming rights to the forthcoming Garakowa -Restore the World- feature film being produced by Pony Canyon and A-1 Pictures, itself based on an original story called D.backup, written by the duo calling themselves "Physics Point.", which won the grand prize at the 2013 Animeka Taisho (Anime Adaptation Award), which meant that Physics Point won the opportunity for their story to be adapted into an animated film by Pony Canyon.
Garakowa -Restore the World- is directed by Masashi Ishihama, who previously worked on Attack on Titan and Psycho-Pass 2, while Fumihiko Shimo of Air and Clannad fame wrote the screenplay. Garakowa –Restore the World- also features character designs by popular illustrator Kantoku, who previously designed characters for the anime series HENNEKO -The Hentai Prince and the Stony Cat-.
Synopsis:
Brilliant rays of colorful light float in a space devoid of gravity – "The Box of Wisdom." A space inhabited by multiple worlds, countless timelines and a diversity of people, where Dual and Dorothy battle the enemy – viruses encroaching on the world. A world infected by a virus must be deleted.
This is Dual and Dorothy's responsibility and job. One day, Dual and Dorothy discover a new virus attacking a girl.They save the girl and quietly wait for her to awaken.Who is she? Where did she come from? Where will she go? The girl finally awakens. She calls herself "Remo" and has only one thing to say: "I have to return to the flower garden…"
Garakowa -Restore the World- will be available for streaming as part of Crunchyroll's winter lineup, starting on Saturday, January 16, 2016 for Crunchyroll members worldwide except for Asia.