TV anime adaptation is co-produced by Studio 3Hz and ORANGE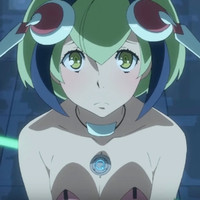 The official website for the upcoming TV anime adaptation of Yuji Iwahara's sci-fi action manga Dimension W today posted the two-minute 2nd PV introducing its main voice cats and OP song "Genesis" performed by Stereo Dive Foundation. It is also announced that Kousuke Toriumi and Daiki Yamashita join the cast as Salba Ene Tibesti and Ruwai Aura Tibesti, respectively. The TV anime is scheduled to premiere on Tokyo MX, Sun TV, KBS Kyoto, and TV Aichi on January 10, 2016.
Stereo Dive Foundation is a solo project of 33-year-old Japanese musician R.O.N, a former member of Oldcodex. Under the name, he released "Daisy" (Beyond the Boundary ED) in November 2013, "AXIS" (Nobunaga The Fool ED) in February 2014, and "Renegade" (GANGSTA. OP) in July 2015. The CD single of "Genesis" will be released on January 27, 2016.
2nd PV
Main voice cast:
Kyoma Mabuchi: Daisuke Ono (Jotaro Kujo in JoJo's Bizarre Adventure: Stardust Crusaders)
Mira Yurisaki: Reina Ueda (Naru Sekiya in Hanayamata)
Albert Schuman: Akira Ishida (Athrun Zala in Mobile Suit Gundam Seed)
Marie: Kimiko Saito (Bib Madam in Tokyo Ghoul √A)
Koorogi: Yoshitsugu Matsuoka (Kirito on Sword Art Online)
Looser: Yuichi Nakamura (Ultraman X in Ultraman X)
Elizabeth Greenhow Smith: Eri Suzuki (Milinda Brantini in Heavy Object)
2nd main visual
【サイト更新情報】TOPページに新キービジュアルを掲載しました! ⇒https://t.co/isVSgSepU0 物語の始まりを匂わせるかっこいい仕上がりの新キービジュアル、ぜひご覧ください!(宣伝ムラ) #dimensionw pic.twitter.com/ROu0BlnH0u

— Dimension_W (@Dimension_W) December 8, 2015
1st PV with English subtitles
Source: TV anime "Dimension W" official website
© Yuji Iwahara/Square Enix, DW Production Committee