Latest 8th volume hits stores December 12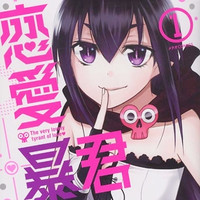 Aplix has announced that an anime adaptation of Megane Mihoshi's love comedy manga Renai Boukun/The Very Lovely Tyrant of Love, which has been serialized in its free manga site Comic Meteor since May 2012, is in the works. It will be the first anime adaptation for the author. The latest 8th volume is scheduled to be released on December 12. Details about how and when the anime will be distributed will be announced later.
The story begins when an angel named Guri with a mysterious item "Kiss Note" visits the protagonist high school boy Seiji Aono's house. She says that any couple whose names are written in the note will kiss each other in 24 hours, and that she has accidentally written his name on it. If he can't kiss anyone by the time limit, she will die and he will have to live as a virgin for the rest of his life.
Comic Meteor's official Twitter posted an announcement illustration by the manga author
最後に番外編の扉にもなっている三星めがね先生のアニメ記念絵をぺたりと貼っておきます。 pic.twitter.com/lFpZ6FB9JT

— 恋愛暴君@最新8巻12月発売 (@renaiboukun) December 8, 2015
PV for the manga posted in May 2015
Manga 1st and 8th volume covers
Source: press release
© Megane Mihoshi/Aplix IP Holdings Corporation