VA unit TrySail perform the theme song "whiz"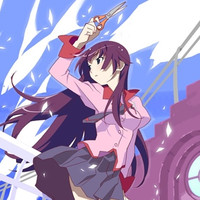 Aniplex today announced that the Monogatari series' official app "Koyomimonogatari" will be available for download at App Store and Google Play on December 19. A new short anime series of the same name will start offering weekly for free via the app, and the 1st episode is scheduled to be posted on January 9, 2016. In addition, a daily pad calendar service with newly recorded voices will be available from January 1.
Three-member anime voice actress unit TrySail, consisting of Momo Asakura, Sora Amamiya, and Shiina Natsukawa, perform the theme song for the short anime, "whiz." It will be released as their 3rd single on February 10, 2016. The unit was formed in December 2014, and previously provided the theme songs for Denpa Kyoushi (1st single "Youthful Dreamer") and Classroom☆Crisis (2nd single "Cobalt").
Koyomimonogatari is the 11th installment (14th volume) in Nisio Isin's Monogatari light novel series,
published in May 2013. The first part "Tekketsu" of the trilogy anime film project based on the series' 2nd
novel Kizumonogatari (3rd volume) will hit Japanese theaters one day before the Koyomimonogatari anime,
January 8, 2016.
Main visual
<物語>シリーズ公式アプリ「暦物語」12/19~AppStore&GooglePlayにてDL開始! ○新作短編アニメ「暦物語」1/9~限定無料配信 ○録りおろしボイス付日めくりカレンダー搭載 ○主題歌「whiz」TrySail pic.twitter.com/LC91VIgxuP

— 西尾維新アニメプロジェクト (@nisioisin_anime) December 10, 2015
TrySail
【暦物語】 1/9(土)~<物語>シリーズ公式アプリ「暦物語」にて限定無料配信の新作短編アニメ「暦物語」の主題歌が「whiz」TrySailに決定!主題歌CDは来年2/10(水)発売! https://t.co/g9WvfZSonv pic.twitter.com/KQtlG99c4c

— 西尾維新アニメプロジェクト (@nisioisin_anime) December 10, 2015
Source: "Monogatari" series official website
© Ishin Nishio/Kodansha, Aniplex, Shaft