Novo jogo da franquia vai contar com 50 personagens em um Dream Match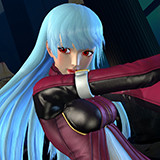 Durante a PlayStation Experience, evento que rolou em São Francisco no final de semana passado, a SNKP divulgou mais um trailer do aguardado The King of Fighters XIV. Ainda em fase de produção, sempre que algum trailer do jogo é apresentado, a comoção é geral, sempre com muitas reclamaçãos em relação ao visual do game, que segundo alguns fãs (e montagens) parece coisa de PS1.
O novo trailer serviu de anúncio para o retorno dos personagens Billy Kane, King, Kula Diamond e Angel. O showfloor do evento também já estava com uma versão jogável de KOFXIV, e apesar de ainda não ter uma data de lançamento confirmada, a previsão é para 2016, exclusivo no PS4.
---
Jornalista de guerrilha, pode ser encontrado no Twitter sob a alcunha de @horokeu, e gosta do seu queijo quente no pão de forma. Prefere mangás a animes (a menos que seja do Studio Bones) e adora competir. Provavelmente mais que você. Quer apostar?