feel. (Locodol, Bikini Warriors)-produced series will premiere in January 8, 2016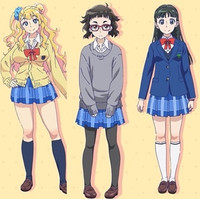 The official website and Twitter for the upcoming TV anime adaptation of Kenya Suzuki's web comic series Oshiete! Galko-chan (Please Tell Me! Galko-chan) today announced its premiere schedule in Japan and voice cast for the three main characters along with their anime visuals.
Premiere Schedule in Japan:
January 8: Tokyo MX (23:00-), AT-X (22:30-)
Janaury 10: BS11 (25:00-)
Keiichiro Kawaguchi (Hayate the Combat Butler, SKET DANCE, Jinsei) works on directing and series composition alongside anime character designer Kenji Fujisaki (Cross Fight B-Daman, Blood Lad) for feel. (Locodol, Bikini Warriors). The yet-titled OP song will be performed by the voice actresses of the three main girls as their character song.
Galko: Azumi Waki (Sanae Katagiri in The [email protected] Cinderella Girls)
【本日解禁情報②】メインキャスト3名の情報を公開!見た目は金髪ギャルだけど、中身は純情でクラスの人気者のギャル子を演じるのは、和氣あず未さんです! #ギャル子ちゃん pic.twitter.com/XnESayE0DJ

— おしえて! ギャル子ちゃん公式アカウント (@galko_official) 2015, 12月 10
Otako: Miyu Tomita (young Taihei in Himouto! Umaru-chan)
クラスの隅が定位置だけど何故かギャル子と仲良しな「オタ子」を演じるのは、富田美憂さん!何と富田さんは現在16歳のようで…とてもお若いです(汗) #ギャル子ちゃん pic.twitter.com/fhKsQC5MqT

— おしえて! ギャル子ちゃん公式アカウント (@galko_official) 2015, 12月 10
Ojou: Minami Takahashi (Megumi Tadokoro in Shokugeki no Soma)
そしてギャル子とオタ子の会話に良く混ざる天然お嬢様の「お嬢」を演じるのは高橋未奈美さんです! #ギャル子ちゃん pic.twitter.com/22Zod9NKOA

— おしえて! ギャル子ちゃん公式アカウント (@galko_official) 2015, 12月 10
Scenes from the anime
【本日解禁情報③】先行場面カット3点を公開しちゃいます!ギャル子、オタ子、お嬢のそれぞれの表情が良く表れていて可愛いですね!1月からの放送をお楽しみに♪ #ギャル子ちゃん pic.twitter.com/fPrueDrbnf

— おしえて! ギャル子ちゃん公式アカウント (@galko_official) 2015, 12月 10
Main Visual
『おしえて! ギャル子ちゃん』TVアニメ化です! #ギャル子 pic.twitter.com/GV29xOeWXz

— おしえて! ギャル子ちゃん公式アカウント (@galko_official) 2015, 11月 6
Source: "Oshiete! Galko-chan" TV Anime official website
© 2015 Kenya Suzuki/KADOKAWA/Galko-chan Production Committee