24-year-old Mitsuki Yamamoto (Kin Kyori Renai) stars the June 2016 film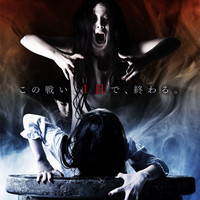 Kadokawa today posted a 60-second teaser for Sadako vs Kayako, the upcoming collaboration film between the two most famous J-horror characters, Sadako from Kadokawa's "Ring" franchise and Kayako from NBC Universal Entertainment's "Juon." The project was originally announced as an official April Fool's Day hoax this April, but now it became real.
42-year-old Kouji Shiraishi, well known for his POV style horror films such as Noroi (The Curse) in 2005 and Occult in 2009, attaches to direct. 24-year-old fashion model/actress Mitsuki Yamamoto (Black Butler, Kin Kyori Renai), who is a big fan of the horror genre according to the film's official blog, is set to star.
Sadako vs Kayako will be released in Japan in June 2016, and will also get 4DX screenings at selected theaters.
Teaser
April Fool's Day poster
Source: Kadokawa
© 2016 Kadokawa/"Sadako vs Kayako" Production Committee