VA talk event will be held in Tokyo on January 31, 2016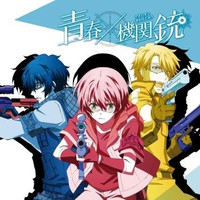 The official website for the TV anime adaptation of NAOE's survival game-themed manga Aoharu x Kikanju/Aoharu x Machinegun has announced that its unaired 13th episode titled "Kemono-tachi no Senjou Dana!" (This is a battlefield of animals!) is scheduled to be aired on TBS and CBC on December 24, then on BS-TBS two days later.
On-air Schedule:
TBS - 26:06 on December 24
CBC - 27:00 on December 24
BS-TBS - 25:00 on December 26
The TV anime was aired for 12 episodes from July to September this year. Its DVD/Blu-ray discs are scheduled to be released in six volumes, with two episodes each, between September 2015 and February
2016. The last 6th volume is listed only with the 11th and 12th episode.
It is also announced that a special event featuring a talk session by the voice cast will be held at
Ebisu The Garden Hall in Tokyo twice (15:00, 19:30) on January 31, 2016. Mikako Komatsu (Hotaru
Tachibana), Tomoaki Maeno (Masamune Matsuoka), Yoshitsugu Matsuoka (Toru Yukimura), Kazuyuki
Okitsu (Nagamasa Midori), and Ryohei Kimura (Takatora Fujimoto) are scheduled to join. The stage
set will be designed based on Yukimura's house in the show.
Blu-ray 1st and 2nd volume package illustrations
3rd and 4th
TV anime main visual
Source: "Aoharu x Machinegun" TV anime official website, Twitter
© NAOE/Square Enix/Aoharu x Kikanju Production Committee
© NAOE/Square Enix