Only the best for the Phantomhives!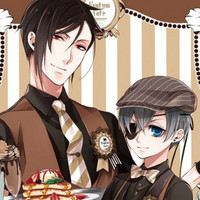 Black Butler is a series with plenty of decadence strewn across its episodes, so it makes total sense that there should be a special cafe dedicated to it.
The Tokyo-Q Plaza Harajuku AREA-Q will be hosting a special Black Butler cafe beginning on January 15 known as the "Black Butler Funtom Cafe." Ciel Phantomhive himself is the manager, and the locale will be stocked with drinks, food, snacks, and even a special video.
Tickets will be going on sale starting on December 18, and some of the dishes you can find there include the Sebastian Plate (a special quiche), Ciel Plate (delicious scones,) parfaits, and other yummy snacks. You can also pick up bags, place mats, keychains, and more there.
See some of the delectable snacks below!
[via Anime News Network]
-------
Fueled by horror, rainbow-sugar-pixel-rushes, and video games, Brittany is a freelancer who thrives on surrealism and ultraviolence. Follow her on Twitter @MolotovCupcake and check out her portfolio for more.