Product rollout is scheduled for March 2016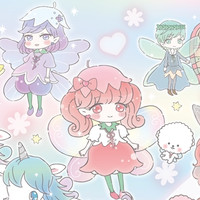 Following the ongoing successful Jewelpet, Sega Toys and Sanrio have revealed their second collaboration project for lower/middle-elementary age girls, Rilu Rilu Fairilu. The new fantasy character franchise will include merchandise, books, games, events, and a TV anime series. Product rollout is scheduled for March 2016.
The Jewelpet franchise launched in 2008, produced by the third Hello Kitty designer Yuko Yamaguchi. It has become one of the most successful franchise for girls in Japan, currently the 7th TV anime series Jewelpet MagicalChange has been on the air since April.
Rilu Rilu Fairilu features little fairies called "Fairilu," who are born from "Fairilu Seed." Each Fairilu have their own "Fairilu Key" and have to find "Fairilu Door" to grow up. The story is set in their island "Little Fairilu" and centers on the protagonist Lip who is a fairy of tulip, alongside various types of fairies, such
as flowers, insects, and mermaids.
Main visual
"Little Fairilu"
Main characters (Lip, Himawari/Sunflower, Sumire/Violet, Rose)
Sub characters
Source: press release
© 2015 SANRIO SEGA TOYS