2nd part "Graduation" hits Japanese theaters March 25, 2016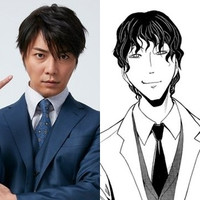 The official website for the live-action film adaptation of Yusei Matsui's Ansatsu Kyoushitsu/Assassination Classroom manga announced that 33-year-old Japanese actor Hiroki Narimiya, best known as Ryuichi Naruhodo in the Phoenix Wright live-action film in 2012, is cast as Kotaro Yanagisawa, the scientist who was responsible for creating Korosensei. 26-year-old Mirei Kiritani, recently starred in the live-action film adaptation of Momoko Kouda's shoujo manga series Heroine Shikkaku, plays Yanagisawa's fiancée Aguri Yukimura. And Kazunari Ninomiya, a 32-year-old member of boys idol group Arashi who voiced Korosensei in the first film, plays the original Shinigami as well.
The 110-minute first film was released in Japan on March 21, 2015. In spite of very low expectations among fans, it earned an impressive 2.7 billion yen from its total domestic run, becoming one of the most successful Japanese films of this year. The second part titled Assassination Classroom: Sotsugyo-hen
(Graduation Chapter) is set for a release in Japan on March 25, 2016.
悲しき過去を抱える暗殺者・死神&元3年E組担任・雪村あぐりのビジュアルが初解禁!!さらに!死神を現在のタコ型の超生物・殺せんせーの姿にした科学者・柳沢誇太郎役に成宮寛貴さんが決定しましたー!! 椚ヶ丘学園広報W辺 #暗殺教室卒業編 pic.twitter.com/fJs8ZhNrIC

— 『暗殺教室~卒業編~』公式 (@ansatsu_movie) December 17, 2015
Source: "Assassination Classroom" live-action film official website
(C) 2015 Fuji TV, Shueisha, J Storm, Toho, Robot
(C) 2015 Yusei Matsui/Shueisha