All night screening event will be held in Shinjuku on December 24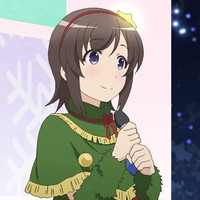 A 30-second "Christmas Special" OVA episode of the local idol-themed anime series Locodol is now officially available on the web. Prior to its release, it will be aired on four TV stations from December 24 to 26, and also screened in the all night event in Shinjuku on December 24.
On-air schedule:
December 24: TBS (26:36-)
December 25: Sun TV (23:30-), TBS Channel 2 (25:30-)
December 26: BS-TBS (25:30-)
"Christmas Special" CM
VAs after the voice recording session
OVAクリスマススペシャル「みんなでお祝いしてみた。」収録後のキャストコメント到着★こちらに掲載しています!→ https://t.co/8bXxyz6OmG 記念の集合写真も公開! #ろこどる pic.twitter.com/1e3XDPaYOk

— 普通の女子校生が【ろこどる】やってみた。 (@locodol_anime) December 14, 2015
The all night screening event is scheduled to be held at Cinemart Shinjuku Screen 1 in Tokyo from 22:30,
December 24. In addition to the OVA, the 1st, 3rd, 4th, and 6th to 12th episodes of the 2014 TV series will be
also screened. All visitors will get a Christmas card newly drawn by the original manga creator Kotaro Kosugi.
Check the image below.
12/24開催クリスマスオールナイト上映会の来場者特典「小杉光太郎先生描きおろしクリスマスカード」の画像公開!流川ふるさと振興課(新宿出張所@一迅社)よりクリスマスプレゼント★ #ろこどる pic.twitter.com/Cd0a4aorUW

— 普通の女子校生が【ろこどる】やってみた。 (@locodol_anime) December 18, 2015
Source: TV anime "Locodol" official Twitter
© Kotaro Kosugi, Ichijinsha/Locodol Production Committee