Advance tickets with an acryl keyholder will go on sale on December 24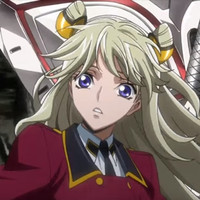 The official website for the Code Geass: Akito the Exiled series today updated with a main visual for the upcoming fifth chapter "Itoshiki Monotachi e" (To Beloved), posting its 70-second trailer. The final chapter will be screened at 36 theaters across Japan from February 6, 2016. Advance tickets with a acryl keyholder of Akito or Leila will go on sale at the Animate stores on December 24.
Trailer
5th chapter main visual
【亡国のアキト】2016年2月6日の最終章上映開始に向けまして公式サイトを更新致しました!遂に最終章キービジュアル、そして予告PVも公開です!https://t.co/e9S3P8zGjI #geassp pic.twitter.com/K09peQ5P2v

— コードギアスプロジェクト (@GEASSPROJECT) December 18, 2015
Acryl keyholders for the advance tickets
【亡国のアキト】最終章でも「アニメイト限定グッズ付き先行販売チケット」が発売決定!今回はアクリルキーホルダー付きでアキトとレイラの2種となっています!詳しくはhttps://t.co/MruMyfYPza #geassp pic.twitter.com/oYDognERU1

— コードギアスプロジェクト (@GEASSPROJECT) December 18, 2015
The 4th chapter "Nikushimi no Kioku Kara" (From the Memories of Hatred) was released on 36 screens across
Japan on July 4. In spite of its limited release, it ranked 11th in the weekend box office. And its Blu-ray disc
released on October 28 took the top spot in the Oricon weekly overall Blu-ray sales chart selling about 19,000
units in its first week.
Source: "Code Geass: Akito the Exiled" official website
©SUNRISE/PROJECT G-AKITO Character Design ©2006-2011 CLAMP,ST