Directed by Kenichi Kawamura (SoniAni: Super Sonico The Animation)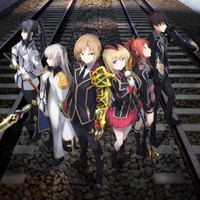 A new TV anime project Qualidea Code was announced at the Jump Festa 2016 event today. The event organized by Shueisha is now being held at Makuhari Messe in Chiba Prefecture for two days, December 19 and 20.
The original story for the TV anime is created by the three-member unit Speakeasy, consisting of three famous Japanese light novel authors: Sou Sagara (The "Hentai" Prince and the Stony Cat.), Koushi Tachibana (Date A Live) and Wataru Watari (My Teen Romantic Comedy SNAFU), for Marvelous. The project has already included Sagara's light novel Sonna Sekai wa Kowashiteshimae -Qualidea Code-, Tachibana's Itsuka Sekai wo Sukuu Tameni -Qualidea Code-, and Sagara and Watanabe's Kuzu to Kinka no Qualidea.
The anime's official website also opens today, posting its main visual and two-minute 1st PV. Kenichi
Kawamura (SoniAni: Super Sonico The Animation) serves as director, based on scripts by Speakeasy,
alongside character designer Hisayuki Tabata (Fate/stay night [Unlimited Blade Works]). No broadcast
information has been set. Its manga adaptation is scheduled to be serialized in Shueisha's Jump Square.
The story is set in a world where the human race have fought a war against an enemy called "Unknown."
During their invasion several decades ago, some children evacuated to a cold-sleep facility. When wake up,
they find they have a supernatural power called "World" in their bodies. To defend the country from "Unknown"
appearing from the Tokyo Bay gate, the boys and girls have to fight fierce battles at the defense cities in
Tokyo, Kanagawa and Chiba.
Main Visual
1st PV
Main Staff:
Original Story: Speakeasy (Sou Sagara, Koushi Tachibana, Wataru Watari)/Marvelous
Director: Kenichi Kawamura (SoniAni: Super Sonico The Animation)
Scripts: Speakeasy
Original Character Design: MatsuRyu
Anime Character Design: Hisayuki Tabata (Yuyushiki, Fate/stay night [Unlimited Blade Works])
Music: Taku Iwasaki (Gatchaman Crowds, Noragami)
Anime Production: A-1 Pictures
Production: Qualidea Code Production Committee
Photos from Jump Festa 2016
ジャンプフェスタ2016にて、アニメ企画が発表された『クオリディア・コード』!2016年、ジャンプSQ.にてコミカライズ連載決定!マーベラスブースにてPV公開、キービジュアルを使用したフライヤーを配布中です。 pic.twitter.com/O8ZUyiebOU

— TVアニメ『クオリディア・コード』 (@QUALIDEACODE) December 19, 2015
さがら総×橘公司×渡航─3人の作家のコラボによるオリジナルアニメ「クオリディアコード」の情報が本日ジャンプフェスタにて初公開!? MARVELOUSブースに急げー!!! pic.twitter.com/RbJ4l05lNG

— JF2016_shinjin (@JF2016_shinjin) December 19, 2015
---
"Sonna Sekai wa Kowashiteshimae -Qualidea Code-" (Just Destroy Such a World) light novel cover
"Itsuka Sekai wo Sukuu Tameni -Qualidea Code-" (To Save the World Someday)
"Kuzu to Kinka no Qualidea" (Qualidea of Scum and a Gold Coin)
Source: "Qualidea Code" TV anime official website, press release
© Speakeasy, Marvelous/Qualidea Production Committee