"Shokugeki! Maihama Festival" with the eight VAs will be held on February 28, 2016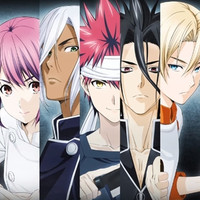 Following the announcement on December 14, the official website for the TV anime adaptation of the Shokugeki no Soma cooking battle manga series created by Yuto Tsukuda (story) and Shun Saeki (art) has posted a one minute PV for its upcoming second season, which was first screened at the Jump Festa 2016 event this weekend. While no details on the new season including its on-air schedule are revealed in the video, all of the main voice cast and main staff are expected to return. The first season produced by J.C. Staff was aired for 24 episodes from April to September this year.
A special event titled "Shokugeki! Maihama Festival" is scheduled to be held at the Maihama Amphi theater on February 28, 2016. The eight voice cast from the anime will join to show their cooking skills in the "Kitchen Stadium" on the stage. More news on the new season may be announced at the event. To get the 5,900-yen ticket, you need to send an advance entry coupon bundled with the 5th volume DVD/Blu-ray of the first season by January 8.
Second season PV
Second season main visual
【本日解禁】食戟のソーマ、TVアニメ続編(第2期)製作決定ー!!!本日発売の週刊少年ジャンプ新年2号、そしてアニメ公式HPにて発表!新ビジュアル⇒https://t.co/pfuJPsqJt7 #shokugeki_anime pic.twitter.com/OrloWHA6SF

— 『食戟のソーマ』TVアニメ公式 (@shokugeki_anime) 2015, 12月 14
First season digest PV
Photos from Jump Festa 2016
【ジャンフェス】さらにワーナーブースでは2期&食戟!舞浜祭に向けてコメント入りキャスト直筆サイン色紙(8名)を展示!創真とタクミのパネルもありますよ♪ぜひブースでご覧くださいませ! #shokugeki_anime pic.twitter.com/2mX5lxOjCF

— 『食戟のソーマ』TVアニメ公式 (@shokugeki_anime) 2015, 12月 18
ワーナーブース、等身大創真パネルに松岡さんのサインを頂きました!展示中! #shokugeki_anime pic.twitter.com/gM2lq0x5Iq

— 『食戟のソーマ』TVアニメ公式 (@shokugeki_anime) 2015, 12月 20
そしてこちらのパネルには、松岡さん、諏訪部さん、岡本さんのサインが追加!ワーナーブースで展示中! #shokugeki_anime pic.twitter.com/DthOzgUafv

— 『食戟のソーマ』TVアニメ公式 (@shokugeki_anime) 2015, 12月 20
Source: "Shokugeki no Soma" TV anime official website, Twitter
© Yuuto Tsukuda,Shun Saeki/Shueisha, Totsuki Gakuen Douga Kenkyukai