Haruhiko Mikimoto, Suehiro Maruo draw the limited edition CD jackets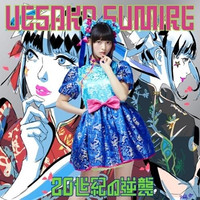 24-year-old anime voice actress Sumire Uesaka, best known as Fubuki in Kantai Collection/KanColle and Anastasia in The [email protected] Cinderella Girls, will release her 2nd solo album "20 Seiki no Gyakushu" (The 20th Century's Counterattack) in Japan on January 6, 2016. Her record company King Records today posted a "YouTube Edit" version music video of "Tetori Ashitori (Parkgolf Remix)" from the bonus disc which came with the two limited editions of the album. The original version of the song was included in her 2nd single "Genshi, Joshi wa, Taiyo Datta" released in July 2013.
The 18-song album includes her 3rd single "Parallax View" (Hozuki no Reitetsu TV anime ED), 4th "Kitare! Akatsuki no Doushi", 5th "Enma Daio ni Kiite Goran" (Hozuki no Reitetsu OAD ED), and 6th "Inner Urge" (Shimoneta: A Boring World Where the Concept of Dirty Jokes Doesn't Exist ED). The bonus DVD/Blu-ray disc contains all of her previous MVs.
Parallax View "Tetori Ashitori (Parkgolf Remix)" YouTube Edit MV
Limited edition A (comes with Blu-ray)
Limited edition B (DVD)
Limited edition C (photobook)
Regular edition
© Copyright King Record.Co.,Ltd.