The CD single includes 10 version of the ED song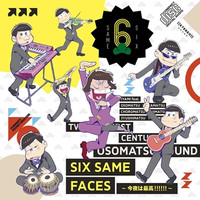 According to the latest Oricon sales report released today, "Six Same Faces ~Konya wa Saikou!!!!!!," the ED theme song for the ongoing TV anime Osomatsu-san/Mr. Osomatsu, the third TV anime adaptation of Fujio Akatsuka's classic gag manga in the 1960s, Osomatsu-kun, ranked a very good 3rd in the weekly single chart selling an impressive 66,879 units in its first week.
The CD single includes the original TV version of the ED song performed by Iyami (Kenichi Suzumura) with The Sextuplets, along with eight solo versions by Osomatsu (Takahiro Sakurai), Karamatsu (Yuichi Nakamura), Choromatsu (Hiroshi Kamiya), Ichimatsu (Jun Fukuyama), Jushimatsu (Daisuke Ono), Todomatsu (Miyu Irino), Iyami, the ED theme artist TECHNOBOYS PULCRAFT GREEN-FUND, and an instrumental version.
CD Jacket
"Osomatsu-san" main visual
Source: Oricon
© Fujio Akatsuka/Osomatsu-san Production Committee