The nine-member VA unit will appear as the 11th performers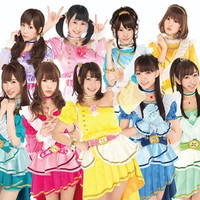 It is confirmed that a new anime footage is made for the performance of μ's, the nine-member voice actress unit from the Love Live! School Idol Project franchise, in this year's Kohaku Uta Gassen, the New Year's Eve singing program on NHK. Japan's national public TV station has never released any videos of the 66-year-old program at which only the most popular music artists of the year are allowed to join. So the live-broadcasting on December 31 is one and only opportunity to watch the new anime.
The unit will perform "Sore wa Bokutachi no Kiseki," the OP song for the TV anime 2nd season, as the 11th performer, after the "Anime Kohaku" segment hosted by Chibi Maruko-chan and Whisper (from the Yokai Watch franchise).
"Sore wa Bokutachi no Kiseki" CM
CD jacket illustration
μ's
via: BARKS
© 2013 Project Love Live!