Production I.G works on the TV anime adaptation of Koji YanagI's mystery novel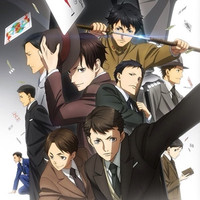 The official website for the upcoming TV anime adaptation of Koji Yanagi's spy-mystery novel series Joker Game has announced its main voice cast. The novel set in 1937 was originally published in 2008, then won the Mystery Writers of Japan Award in the following year. Its live-action film adaptation starring Kazuya Kamenashi (KAT-TUN) was released in Japan in January of this year.
Kazuya Nomura, known as the director of the Sengoku Basara anime series, is attached to direct it for Production I.G, alongside series composition writer Taku Kishimoto (Silver Spoon, Haikyu!!) and anime character designer/chief animation director Toshiyuki Yahagi (Guilty Crown). It is set to premiere in Japan in April of 2016.
Main Voice Cast:
Lieutenant Colonel Yuuki: Kenyuu Horiuchi (Guin in Guin Saga)
TVアニメ「ジョーカー・ゲーム」のキャストを公開しました!結城中佐:堀内賢雄さん。 https://t.co/RfzbVhT6A1 pic.twitter.com/33PgHPhAJJ

— TVアニメ「ジョーカー・ゲーム」 (@jokergame_anime) December 24, 2015
Miyoshi: Hiro Shimono (Syo Kurusu in Uta no Prince-sama)
Kaminaga: Ryohei Kimura (Ryota Kise in Kuroko's Basketball)
Tazaki: Takahiro Sakurai (Suzaku Kururugi in Code Geass: Lelouch of the Rebellion)
Amari: Toshiyuki Morikawa (Katsuya Jonouchi in Yu-Gi-Oh!)
Hatano: Yuuki Kaji (Eren Yeager in Attack on Titan)
TVアニメ「ジョーカー・ゲーム」のキャストを公開しました!三好:下野紘さん、神永:木村良平さん、甘利:森川智之さん、田崎:櫻井孝宏さん、波多野:梶裕貴さん。 https://t.co/RfzbVhT6A1 pic.twitter.com/0ctg9aSyoF

— TVアニメ「ジョーカー・ゲーム」 (@jokergame_anime) December 24, 2015
Odagiri: Yoshimasa Hosoya (Daryun in The Heroic Legend of Arslan)
Jitsui: Jun Fukuyama (Lelouch Lamperouge in Code Geass: Lelouch of the Rebellion)
Fukumoto: Kazuya Nakai (Roronoa Zoro in One Piece)
Jiro Gamou: Kenjiro Tsuda (Seto Kaiba in in Yu-Gi-Oh!)
Lieutenant Sakuma: Tomokazu Seki (Domon Kasshu in Mobile Fighter G Gundam)
TVアニメ「ジョーカー・ゲーム」のキャストを公開しました!小田切:細谷佳正さん、実井:福山潤さん、福本:中井和哉さん、蒲生次郎:津田健次郎さん、佐久間:関智一さん。 https://t.co/RfzbVhT6A1 pic.twitter.com/GYDf2wqiLA

— TVアニメ「ジョーカー・ゲーム」 (@jokergame_anime) December 24, 2015
TV Anime Main Visual
TVアニメ「ジョーカー・ゲーム」2016年4月放送開始!アニメキービジュアル、スタッフを公開中! https://t.co/RfzbVhT6A1 #jga pic.twitter.com/uL2ZZJwjZz

— TVアニメ「ジョーカー・ゲーム」 (@jokergame_anime) December 13, 2015
1st PV
Source: TV anime "Joker Game" official website
© Koji Yanagi,KADOKAWA/JOKER GAME ANIMATION PROJECT