Shoujo manga author Arina Tanemura provides illustrations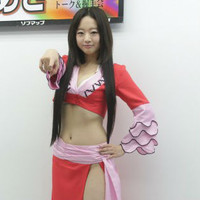 Chiaki Kyan, the 31 year-old gravure idol and fitness instructor, known for her interest in anime, manga and cosplay, A Guide to Becoming Beautiful With Anime Yoga Poses. The 80 page book from Rittor Music, out January 26th, sells for 1,620yen.
Shoujo manga author Arina Tanemura (The Gentlemen's Alliance Cross) provides illustrations.
Content includes:
Intro
Mr Osomatsu - Sheeeh!
Evangelion: 2.0 - "Back Code, The Beast!"
Death Note - L
Kaiji - bowing on the grill
Fist of the Norht Star - Toki's Presence
Mobile Suit Gundam - Maybe giving you something to complain about will make you feel better
Full Metal Alchemist - Edward
Part 1: prone and sitting poses
Detective Conan - Sleeping Kogoro
Initial D - Hachi-Roku
The Lion King
Attack on Titan -

Vertical Maneuvering Equipment

Black Butler "yes,my lord. yes,your highness"

Anpanman - flying pose

Naruto - Orochimaru
Bonus column - using animation to exercise the mind and body
Part 2: Back relaxation and adjustment
Himouto! Umaru-chan - Umaru-cuan
YAWARA! - Tomoe throw
Jojo's Bizarre Adventue - Jonathan & Dio
Dragon Quest - "

There is no answer.It seems that it is just a

corpse

. "

Dragon Ball - Yamcha's Corpse

Mobile Suite Gundam - Amuro ponders mortality

Yowapeda - Maximum Dancing

Bonus column - anime music recommendations for yoga
Part 3 - Dancing and Movement
Jojo's Bizarre Adventure - Standing JoJo
Mobile Suit Gundam - Amuro Ray Ppose
Totoro - sprouting pose
One Piece - looking down on you pose
Free! - dive
Lupin III - Lupin dive
Dragon Ball - Ginyu
Dragon Ball -

Jheese

Dragon Ball -

Reacoom

Dragon Ball - Fusion

Bonus column - how to achieve your ideal body type
Part IV - twists and balence
Sailor Moon - punishing in the name of the moon

Kamisama Kazoku -

pose of the wild hawk

Dragon Quest: Dai no Daibōken - Avan Strash

Prince of Tennis - brown bear serve

Haikyu!! - "Hit a nice serve!"

One Piece - Okama Kempo

Madoka Magica - Walpurgisnacht

Bonus column - how to achieve your ideal body type part 2

------
Scott Green is editor and reporter for anime and manga at geek entertainment site Ain't It Cool News. Follow him on Twitter at @aicnanime.