Which Sailor Senshi will you choose?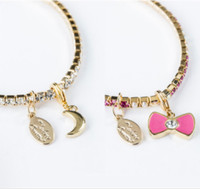 Joining the collection of sleek yet instantly recognizable fandom pieces is a brand new Sailor Moon jewelry line. This Super Groupies bracelete collection is understated, and yet still unmistakably Sailor Moon.
Each Sailor Senshi gets her own set of two bracelets, sold as a pair for 4,800 yen (about $40.) They're dazzling with special colored glass beads that correspond to the colors of each sailor suit, with a special charm with a chest ribbon and celestial symbol. Every bracelet comes in a special jewelry box with the jewelry seated within. You can wear them alone or as a pair, and are great for mixing and matching.
The bracelets are up for preorder right now, but they won't be shipping until the middle of March. Which set will you choose?
[via RocketNews24]
-------
Fueled by horror, rainbow-sugar-pixel-rushes, and video games, Brittany is a freelancer who thrives on surrealism and ultraviolence. Follow her on Twitter @MolotovCupcake and check out her portfolio for more.