2016 film is based on a 1972 children's book of the same title by Morio Kita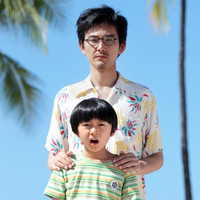 Actor Ryuhei Matsuda (The Raid 2, Mohican Comes Home) continues his tradition of playing idiosyncratic characters in the 2016 film Boku no Ojisan ("My Uncle"), where he plays a lazy, good-for-nothing idler mooching off of the good will of his brother's family.
Matsuda stars opposite child-actor Riku Ohnishi, who plays Yukio Maruyama, the anonymous Uncle's nephew. Uncle and Yukio don't get along, because although Uncle has a part-time job teaching philosophy at a local university, he spends most of this free time reading manga and messing up Yukio's house. Their relationship changes when Eri, a woman with whom Uncle is infatuated, moves to Hawaii, thus prompting Uncle and Yukio to embark on a Hawaiian adventure of their own.
Boku no Ojisan is based on the 1972 children's book of the same name by Morio Kita. The film version is directed by Nobuhiro Yamashita (Ten Dreamy Nights, Tamako in Moratorium) and is scheduled to hit Japanese theaters in the Fall season of 2016.
Sources:
Paul Chapman is the host of The Greatest Movie EVER! Podcast and GME! Anime Fun Time.